The flags in front of Maz's castle seem to be a tribute to various groups and events in the Star Wars universe dating back from the PT....maybe they will have some impact on the present trilogy as well.
Here are some of the ones that have been identified so far:
Bobba Fett and the Mandalorean Connection: Boba Fett- His symbol and the Mandalorean mythosaur skull
Podracing references from Phantom Menace: Sebulba's flag Anakin's flag
Aldar Beedo's flag
Ark Roose flag
Teento Pagales flag
Mawhonic flag
Wan Sandage's flag
Clone Wars reference:
Ziro the Hutt and Ohnaka Gang (also in SW Rebels)
501st legion clone troopers (order 66)
Star Wars Rebels Reference: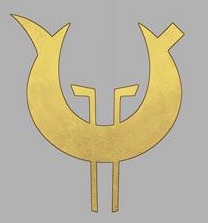 Broken Horn Syndicate (criminal gang based in Lothal from SW Rebels)
Sabine Wren's helmet (Mandalorean connection again?)
Last edited by panki on Wed 27 Apr 2016, 1:35 am; edited 1 time in total
Possible Maz sightings (unconfirmed):
There is a rumor that Maz is a Jawa...though she doesn't look like one but she is of a similar height....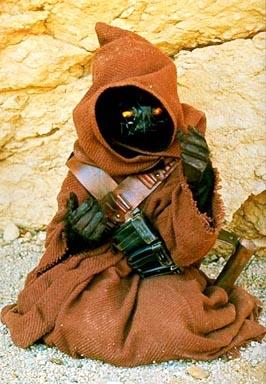 Jawa
Maybe she was living among them disguised in their hooded attire to witness the events of the PT, OT and ST? (The shiny eyes could be her goggles)
Phantom Menace
figurine in Phantom Menace
Anakin asking for directions to find Tusken raiders
 Looking at some item behind prisoners in Rogue One
Selling R2D2 and C-3PO to Luke's uncle in ANH
Most jawas dead, one missing- Maz escaped? in ANH
Behind Jabba the Hutt in ROTJ.
Maz's basement had some interesting items in the basement....
1. Obi-wan's wooden box from ANH
2. A 1000 year old hyperspace sextant wrapped in cloth
3. A diatium power core (it is used as a power source for lightsabers)
4. A fusion cutter head (used by Han on the MF in ESB before he kissed Leia)
5. Anakin's legacy saber
6. Miscellaneous trinkets
A bust of Cherff Maota (possibly one of the Lost 20...jedi who resigned from the order due to philosophical differences, the last one being Count Dooku). Busts of the lost 20 were kept in the jedi temple library at Coruscant. (Could there be some link to Snoke?)
An Ultrachrome shield.......Silver and superconductive, it reflected blaster and slugthrower weaponry, was resistant to lightsaber attacks and metal-eating fungi. It was also used by Imperial inquisitors.
@panki
The facts that Maz was able to got her hand on those stuff, amazed me.
@Sylvia Snow
Completely agree!
I wonder if she is the one writing the
Journal of the Whills
?
Maybe she is a shaman of the whills (as mentioned in the EU)

---
Permissions in this forum:
You
cannot
reply to topics in this forum