Page 25 of 25 •

1 ... 14 ... 23, 24, 25


Teo oswald

Jedi Knight





Messages

: 659


Likes

: 2586


Date d'inscription

: 2017-12-12


Age

: 27


Localisation

: Italy - Trentino Alto-Adige



IDK how I missed this review, which unlike most writers/fans absolutely gets the transcendent and thematic connections between these two characters. Which also makes it really frustrating that his conclusion at the end is that the entire Saga is meant to end as a family tragedy and personal tragedy for Rey, a character who's already shown to have had a tragic past. But otherwise, he gets so much closer in nailing what the characters relationship gets at thematically and transcendently (which yes, they're also completely smitten/horny for the other, but what makes it so compelling is that it's more complex than just that)
Star Wars: The Last Jedi – What Exactly Is the Rey & Kylo Ren Relationship?
So the real question is then why is she so strong with the Force, and why is she drawn to Kylo like a Porg to Millennium Falcon gear? Hints of the real answer to Rey's mystery are found in Supreme Leader Snoke's monlogue. Before his delicious demise, Snoke muses that she is the Force's answer to Kylo Ren: a being who embodies all the qualities of the light, just as Kylo is meant to be heir apparent of all the qualities of the dark, which were his birthright as the grandson of Anakin Skywalker.

In this vein, Snoke isn't just whistling "The Imperial March." Rey is gifted (or cursed) with an unusually high amount of Force sensitivity. The lightsaber belonging to Anakin and Luke Skywalker from generations past called out to her hand in The Force Awakens, and then was used with precision to fight Kylo Ren to a standstill within the frosted woods of Starkiller Base. And despite having never stepped foot off Jakku until she was an adult, this desert child dreamed of water. Previously, we thought it was because of the sea that surrounded Luke, however it appears now what she was really drawn to was the island upon which Luke sat. For there were the ancient Jedi texts of the first Jedi Temple. "Page-turners" of the light.

The island epitomizes a land of light and grace in the Star Wars universe, a place of balance. And it is also the closest Rey has come to finding a home. The reason for this is simple: She is what Snoke says, the Force's answer to Kylo Ren, or at least the legacy he's inherited.
When Rey is drawn to the heart of the island of Ahch-To, it is not due to a beacon of light from the Jedi Temple—it is from the lure of an inviting darkness. In search of answers, a waterlogged Rey finds herself inside the belly of Ahch-To. It's a cold and secluded place reserved for the dark side, yet it remains unthreatened by Rey's presence. She has come looking for her origins, but finds only a mirror.

This is because she is the shiny reflection of the dark, and for there to be balance, light and dark must co-exist without fear. There cannot be one without the other, and Rey could not exist without Kylo Ren or the Skywalker legacy. This difficult to grapple concept is why she finds Luke's stalling tactics so frustrating, and Ben's ear so therapeutic. He too knows what it is like to struggle with a heritage he doesn't fully comprehend. This similarity is what binds them so well… and scares Luke half to death.

When Luke first attempts to teach Rey a lesson about the Force, she is instinctively dragged into the dark side's pit. "You didn't even it fight it," Luke shivers. That is because both she and Kylo are naturally drawn to the other's allure, and their fates are entwined. This is not to say there is a romantic connection between the two... but the attraction of it exists for both parties.

The strongest portions of The Last Jedi are when Kylo and Rey are connected by the Force. Intriguingly, Rey is stronger than her shadowy counterpart, able to see his surroundings while she is but a face that calls to him. We learn later that Snoke enabled this psychic link. Still, it was only possible because Kylo is naturally tempted by her light, as she is just as easily beckoned to his dark. They are the two halves of the Force and a détente between them is when they are at peace.

Beyond the sympathy Rey has for Ben, and past Kylo showing off a marine's physique while they are mentally connected, there is a symbiotic need for the communion... but an impossibility to reconcile it. All is right with the Force when Kylo and Rey work together to bring down one of the ugliest consequences of Anakin Skywalker's actions: Snoke and his meager imitation of the Imperial throne Vader helped build. Unified, they take a major step toward ending Anakin's legacy and are most at peace in this bloody harmony.

However, it is short lived because neither party can consummate the pull of their attraction to the other. Kylo is lost to the dark side, just as Luke and Leia have accepted. It is against his very nature to become the Ben Solo she sees. But in contrast, it is impossible for his counterbalance of the light to give into his proposal to join him. Part of her might want to, but that is not balance; it is submission. Thus they are at an eternal impasse: the rock and the hard place.
Rey watches Finn and Rose, and for the first time swallows her own bit of envy for Stormtrooper FN-2187. She also meets Poe Dameron and speaks with General Leia Organa, and yet they are all looking to the future for the Resistance and for themselves. Rey is thus isolated, even from the shut out Kylo Ren. For now. She may not be raging with conflict, but she is also devoid of the harmony she felt next to Kylo bringing about an end of the previous generation's sins with Snoke's death.

snufkin

Force Ghost





Messages

: 8100


Likes

: 37204


Date d'inscription

: 2016-04-16


Localisation

: it's in the chorus of Pavement's "Unfair"



Beautifully put. But it isn't mentioned that as Kylo is not entirely dark Rey is not entirely light. Just as he cannot deny his pull to the light, Rey cannot escape her pull to the darkness. And not just literally, because in both TFA and TLJ, Rey is shown to be very quick to anger. She tormented Kylo in the forest fight, toying with him like a cat toys with a mouse. She attacked Finn, simply because a droid she'd known for one day accused him of theft! Not to mention hitting an old man in the back.

Rey is, as Adam himself said, the other half of Kylo.
They're meant to be together.

motherofpearl1

Force Ghost





Messages

: 2738


Likes

: 11550


Date d'inscription

: 2016-07-08



@motherofpearl1
It's so much closer to what the point of the story was that most of what I've read. But either the writer holds back deliberately on those points b/c it's either not his focus or he's hedging his bets. And it was published on
TLJ
's release day - when some of the audience saw the ending's darkness to mean that the Saga would come to a tragic end. Which some people still do believe. But there's nothing in what George Lucas ever said, let alone the words of the filmmakers, to make us think that it's meant to be like a Greek tragedy*. If they're toying around with themes and parallels from the PT (and boy go look at
Solo
now and not see that pattern), my guess is that
TROS
will reverse of "love can't save you, only my new powers can."
Anyways, the parts about how meeting each other, they're meant to be together in the larger cosmic sense to do with the Force and a shared destiny (besides just Kylo wanting to update his Facebook status to being in a relationship with Rey), how much better they are together than apart, but that at the end of this chapter, she can't stay because it'd be submission, not balance. That's dead on, it works when it's an equitable relationship not him trying (as he's done several times) to boss her around. My guess is that their 2nd Force split up will give them enough time to recoup, mature/grow up more, and start to miss each other. So when they're reunited, they can finally work their s**t out and get done what the Force has always needed them to do together.
*the PT placed the entire Saga in the territory of tragedy, so to end the entire thing with Rey and Ben dying in each other's arms seems pretty ?!?!. Not to mention stupid if they killed off the two most popular and best-written characters.

snufkin

Force Ghost





Messages

: 8100


Likes

: 37204


Date d'inscription

: 2016-04-16


Localisation

: it's in the chorus of Pavement's "Unfair"



@snufkin
@motherofpearl1
Another example is how Ben is an incompetent and major screw up as a baddie. In TFA BB-8 manages to out smart him and he let's the map slip out of his hands throughout it. In TLJ penultimate scene when Kylo is officially the head of the FO the Alliance is trapped without any resources or help and are totally out numbered and gunned...and Ben let's them escape because he can't control his anger at Luke.
Both movies have established he can't do anything right when it comes to FO business yet the one thing he does do right is kill Snoke, a great and evil threat to everyone and all the galaxies. Not does he kill the acting Big Bad but does so in a crafty and masterful manner with a complex plan he had to think up and execute on the spot, from a guy who could read his mind and sense his every emotion.
When doing trying to be bad he is impulsive and can't think ahead. When doing something for good he is a virtuoso whose calm and collected, the difference between his first shot and his successful attempt to get his former master was Rey. The first time Ben did it to avenge a sleight the following time Rey was next to him and he did to saving her life. Her presence in his life brought the light out in him if just for a tick.
_________________

Darth Dementor

Moderator




Messages

: 1240


Likes

: 5371


Date d'inscription

: 2016-03-25



@Darth Dementor
Just out today, a new image for the Topps cards of the villain clutching his father's lucky charm/favorite childhood toy while watching his sweetheart slam the door in his face. That's 100% a "formulating evil plan to take out the plucky good guys" expression on his face, right?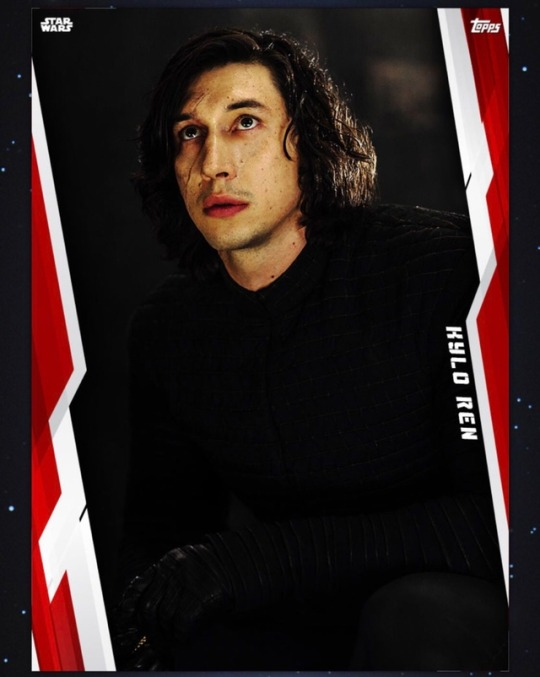 If the spoilers are right that it's been about a year of him as Supreme Leader, I'll be curious how they re-introduce him, what he's been up to, and how he's managed to stay in place for that long. My guess is that the mask is back to be all "I am the great and powerful Oz." It probably also helps being less disliked than Hux, who abandoned ship on SKB. But being Supreme Leader
of the First Order
? That's his safety school because Rey didn't want to be Galactic Prom Queen. He's probably now an even more vulnerable, and miserable, warlord.  The thing which he did get right, killing Snoke, is also why the 3rd act of
TLJ
never bothered me. I didn't think it was great, especially compared to dramatic set pieces like Hoth and Bespin. But it felt like they had to keep him on that side of the chessboard to f**k things up even further for the Imperials and we now know whatever the Emperor's long con has been. I'm expecting the opening act to be more entertaining workplace drama between him and Hux before the plot kicks into gear and he's reunited with Rey. Which to your point, they've done a great job so far of showing how she's able to influence people who've stuck in their comfort zones without having to hold their hands. Or get used/fridged the way Padme and Shmi were to motivate a male character and move his arc forward.

snufkin

Force Ghost





Messages

: 8100


Likes

: 37204


Date d'inscription

: 2016-04-16


Localisation

: it's in the chorus of Pavement's "Unfair"



Page 25 of 25 •

1 ... 14 ... 23, 24, 25

---
Permissions in this forum:
You
cannot
reply to topics in this forum