Page 3 of 3 •
1, 2, 3
Boyfriend?

Many peopled commented on how weird Finn asking Rey if she had a boyfriend was for a Star Wars movie, however, TFA continues to ryhme with AOTC.. even if the scenes where deleted.

Padme's deleted family scene and the discussion with her family on whether Anakin is her "boyfriend". 3:59 minutes in...



spacebaby45678

Force Ghost





Messages

: 3953


Likes

: 9567


Date d'inscription

: 2016-03-25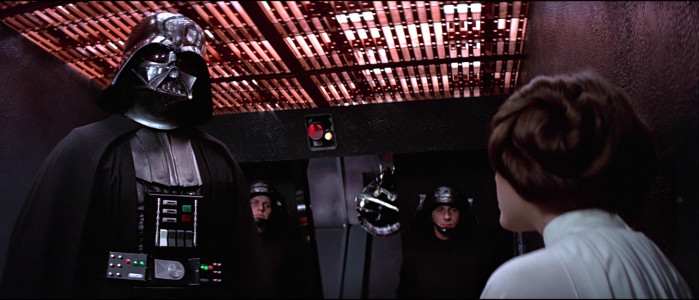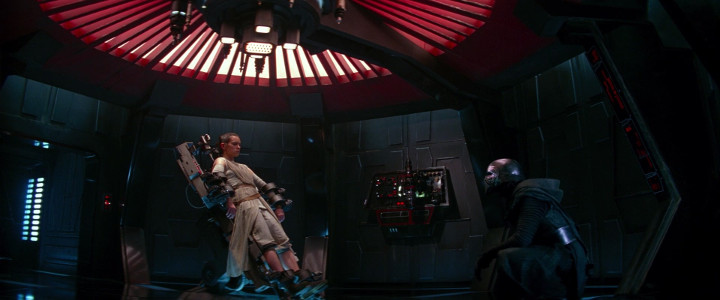 Visually these are almost the same: the same perspective on a prison cell with red ceiling light, one person standing on the left and the other sitting/crouching on the right. BUT the positions of villain and heroine are reversed. In ANH the villain looks down the on heroine and in TFA the heroine looks down on the villain.

Forsythia

Jedi Knight





Messages

: 596


Likes

: 3625


Date d'inscription

: 2016-05-11




spacebaby45678

Force Ghost





Messages

: 3953


Likes

: 9567


Date d'inscription

: 2016-03-25



Great podcast about Ring Comp
http://www.certainpov.com/podcasts/2016/5/10/episode-026-star-wars-ring-theory
Star Wars Ring Theory
This week Ben and Addy dive deeply into George Lucas' Star Wars movies and its structure. Was Lucas trying to achieve something we couldn't recognize are the prequels better than we think? No, but we play around with some interesting ideas based on Mike Klimo's thesis on Star Wars Ring Theory.
Check out the thesis on Ring Theory
What is Ring Theory?
Cyclical Patterns in other Stories
How the Phantom Menace mirrors Return of the Jedi not A New Hope
Ben: Aren't the similarities just a natural part of the Hero's Journey?
More similarities between Phantom Menace and Return of the Jedi
How Attack of the Clones mirrors the Empire Strikes Back
How Revenge of the Sith completes the ring to A New Hope
Our Verdict on Ring Theory
Do other stories conform to Ring Theory?

spacebaby45678

Force Ghost





Messages

: 3953


Likes

: 9567


Date d'inscription

: 2016-03-25



I was recently watching ROTJ and noticed that the scene when Leia is walking down the staircase in Jabba's palace reminded me of Rey walking down the staircase in Maz's castle. Leia is going to free Han who is encased in carbonite. He is frozen and freezing, and falls. She doesn't take off her mask until he asks who she is. The visor on the mask kind of reminds me of the visor part of Kylo's mask.

Shortly after Rey has the forceback vision, Maz is talking about how there's someone who can still come back (Luke). But the other person who can potentially be brought back is Kylo. Shortly after, Kylo freezes Rey in the forest. On SKB he takes off his mask after she complains at how he is a "creature in a mask." He is trapped in the darkness, kind of like how Han is frozen in carbonite.

The relationship between Han and Leia is romantic. She is there to save Han. My brain took all of these loose things and rearranged them and I found myself imagining *something* connected in all of this. I would see Rey as the one who could save Kylo. But Leia holding Han after he fell from the carbonite thingie reminded me of Kylo carrying Rey in the forest. I also always imagined Kylo carefully putting Rey on the interrogation platform. When he began reading her mind there was a brief moment he seemed concerned about the position of her head, when she was turning away--as though he needed to know she wouldn't hit it against something before he could immerse himself in finding the information.

I know I may well be seeing things that are not really there.

Acritiqua

Jedi Padawan





Messages

: 381


Likes

: 1256


Date d'inscription

: 2017-03-03



You know something I realized in the obvious parallel between the ending fights of ROTS and TFA? They're opposites in every possible way, not just because one planet is on fire and the other is an ice cube.
So. The environments are literal opposites (ROTS/lava and TFA/snow, and the master/apprentice dynamics are swapped (Obi-Wan being the hero and the master of the villain; Kylo Ren being the villain and trying to be the master of the hero), but there's something more.
While Anakin was displaying pure hatred and disdain for Obi-Wan, Kylo is "rocked by her (Rey) innate skill" (as the script says) and he looks at her in awe. He is not hating her, he's admiring her. THE FEELINGS OF THE VILLAIN CHANGED AS WELL. Anakin hated Obi-Wan after knowing him for a long time, and Kylo Ren now admires Rey despite barely knowing her.
These two scenes were deliberately done as parallels, J.J. Abrams probably watched this specific scene in ROTS a hundred times to get all the beats and the visuals. IT'S IMPOSSIBLE that the acting direction is random. Someone called Adam and told him "You see, this is Anakin Skywalker HATING Obi-Wan. You're going to do the opposite."

Piper Maru

Force Ghost





Messages

: 1614


Likes

: 13389


Date d'inscription

: 2017-01-15


Age

: 29



@Acritiqua
- if you're seeing things that are not really there, you're in the right place. Those parallels come up in discussions about details and callbacks from the OT which were in TFA, especially because the Behind the Scenes documentary (and the movie itself) make that obvious. With the scene where Rey calls him a monster and he takes off the mask, it's been discussed here that it could refer to RotJ. He wants Rey to see that he's a young man, not a monster, and to see her with his own eyes

snufkin

Force Ghost





Messages

: 8639


Likes

: 40482


Date d'inscription

: 2016-04-16


Localisation

: it's in the chorus of Pavement's "Unfair"



Ring composition is interesting and parallels are interesting. I have seen many Rey Soloist site the walking down the stairs as evidence, but walking down the stairs are not necessarily a parallel or a reversal. It has to be the narrative. Why is Rey walking down the stairs and why is Leia walking down the stairs? Leia is walking down a dungeon to save Han, Rey is walking down to a basement for a discovery so that is not a parallel. Another way of finding the Ring, is does the walking down the stairs happen in the same part of the movie?  Or the complete opposite part of the each movie. If it was meant to be a parallel it would happen at the same time in the movie. Like, Han & Leia's kisss and Anidala's Kiss, they both occur at the same run time in ESB and AOTC. 45 MIN.  No it doesn't so it is not a parallel.

Kylo wanting to be Rey's teacher, is a a reversal/parallel to Obi teaching Anakin /Luke...

@piper maru

Reylo fight on Starkiller base is a perfect chiasmus to Anakin & Obi in ROTS

spacebaby45678

Force Ghost





Messages

: 3953


Likes

: 9567


Date d'inscription

: 2016-03-25




BB-Rey

Jedi Padawan





Messages

: 296


Likes

: 887


Date d'inscription

: 2017-10-15



Page 3 of 3 •
1, 2, 3
---
Permissions in this forum:
You
cannot
reply to topics in this forum